covid-19 Updates
The Diocese has evaluated the recent CDC mask announcement and has published the following policy changes click here.
Current State: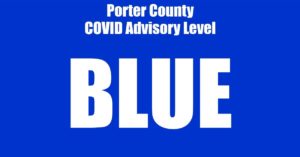 For details on the Alert and additional
restrictions click HERE
The following data is from the Porter County COVID 19 Site to help you make an informed decision on attending church and other public places (Click Here for web site)
Porter County COVID 19 Testing sites, Click Here
Porter County COVID 19 Vaccination Information will NOT be updated after July 1. Click for more Information.
Details as of 6/25/21 – Zero new cases
3.2% 7 Day Average Positivity Rate through June 17, State BLUE Level
Porter County Vaccination Rates for Eligible Population as of 6/25/21:
Partially Vaccinated..3.7% (Previous- 4.3, 5.1, 5.9)
Fully Vaccinated….49.2% (Previous- 48.1, 46.6, 45.3)
Not Vaccinated………47.0% (Previous= 47.6,48.3, 48.8)
Weeky offering envelopes piling up?
You can mail your envelopes/contributions to us !
St. Francis' Episcopal Church
PO Box 621
Chesterton, IN 46304
TRY US ONCE, WE BET YOU'LL COME BACK FOR MORE!
1 mile east of Hwy 49 South on Porter Av
237 E 1200N
Chesterton, IN, 46304
Need additional assistance? Please contact us:
219-926-3497
service hours
Sunday: 10:00AM
Wednesday: 6:00PM
Wed Bible Study: 6:45PM