covid-19 Updates
YES, you need to wear a mask even when vaccinated.
The Diocese is evaluating the recent CDC mask announcement and will publish any policy changes soon.
Current State: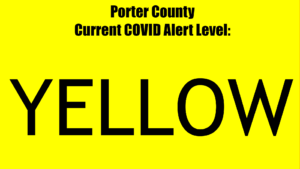 For details on the Alert and additional restrictions click HERE
The following data is from the Porter County COVID 19 Site to help you make an informed decision on attending church and other public places (Click Here for web site)
Porter County COVID 19 Testing sites, Click Here
Porter County COVID 19 Vaccination Information, Click Here
Click on image to expand


Details for 4/30/21 – 51 new cases
7.2% 7 Day Average Positivity Rate through April 22 State YELLOW Level
Determination Methods:
Michigan Adaption Method – Replaced the Diocesan Method on September 24. This Method eliminated taking into consideration any health measures to automatically determine what level of open the churches were required to use. Instead the churches are allow to open but must follow the requirements of maximum 25% capacity, mandatory mask wearing, six feet social distancing, use of hand sanitizer, following an approved sanitation protocol. Closure will occur only by State or County mandate, or, as directed by the Bishop or local clergy under an abundance of caution related to conditions in the county. Click here for full text.
Diocesan Method -The Original Method, it used the number of new cases on a seven day rolling average per 100,000 residents in the county. Ranges were then assigned a color based on that number to determine what level churches were allowed to be open. Values for instance could be (> 1 <=10) in the Yellow range, allowed attendance would be the smaller of 25% of legal capacity or six feet distancing between household groups, or, Red >25 with full closure of churches. Click here for full text. Using this method for the current date (4/30/21) the 7 Day Average New Cases per 100,000 = 80.7
Weeky offering envelopes piling up?
You can mail your envelopes/contributions to us !
St. Francis' Episcopal Church
PO Box 621
Chesterton, IN 46304
TRY US ONCE, WE BET YOU'LL COME BACK FOR MORE!
1 mile east of Hwy 49 South on Porter Av
237 E 1200N
Chesterton, IN, 46304
Need additional assistance? Please contact us:
219-926-3497
service hours
Sunday: 10:00AM
Wednesday: 6:00PM
Wed Bible Study: 6:45PM